Hospital Lomas, It has the most advanced equipment and systems in each of its hospital areas, which, together with our prestigious doctors and our nursing professionals, work to provide you with the best medical care in the Region.
AREA OF HOSPITALIZATION
The Lomas de San Luis Hospital in its area of hospitalizacion has:
48 Suite type rooms. They all have a private waiting room for the comfort of the patient and their families, as well as wireless Internet, pay TV service and online.
Within the set of Suites we have:
• 7 Master Suites Premier (with independent room for the companion)
• 1 Master Suite Premier for water birth (with independent room for the companion)
• 2 Master Suites (with independent room for the companion)
• 4 Junior Suites
• 34 Standard Suites
All the suites in the hospitalization area in the 2nd. floor are equipped with remote electrocardiographic monitoring system (telemetry) for patients who require it, providing greater surveillance and security.
All our patients are under the care of a large medical group with experience and prestige in all specialties and medical sub-specialties, and our nursing staff takes care of patients with the greatest warmth and professionalism.
EMERGENCY UNIT
Emergency Unit at the level of International Hospitals, being the most advanced in the city. It has a Resuscitation Unit (Shock and Trauma) that allows a fast and efficient care of serious patients, in addition to having Observation Rooms for both adult patients and pediatric patients, giving them the attention and privacy that they require.
To speed up the care of our patients, we offer a room for conventional radiological studies within the Emergency Unit with the same scanning system as the Radiology and Imaging Unit.
It should be noted that in this Emergency Unit they are attended by medical specialists 24 hours a day.
SURGICAL UNIT
The surgery department has 5 operating rooms:
• A highly specialized operating room (Cardio / Neurosuite) equipped with the highest standards for neurosurgery procedures, cardiology and transplants.
• An operating room for laparoscopic surgery (endosuite) with high resolution laparoscopy equipment.
• Two operating rooms for general and specialty surgery procedures.
• An operating room located on the first floor, equipped for conventional orthopedic surgery and for minimally invasive orthopedic procedures.
All operating rooms have anesthesia equipment and monitoring above the official Mexican standards.
We put at your disposal an area of postanesthetic care that integrates monitoring and support teams for the proper care of our patients.
The Equipment and Sterilization Center is equipped with instruments and equipment to meet the demands of surgical procedures. It has steam and plasma sterilization systems.
INTENSIVE CARE UNIT
One of the most equipped in the region, with advanced and centralized monitoring system that allows its expert medical team of specialists in critical medicine and intensive therapy, to provide medical care of the highest quality standards.
INTERMEDIATE CARE UNIT
Area where there are less serious patients who require strict surveillance until their conditions allow them to be transferred to the hospitalization area. It also has a monitoring system of the highest quality.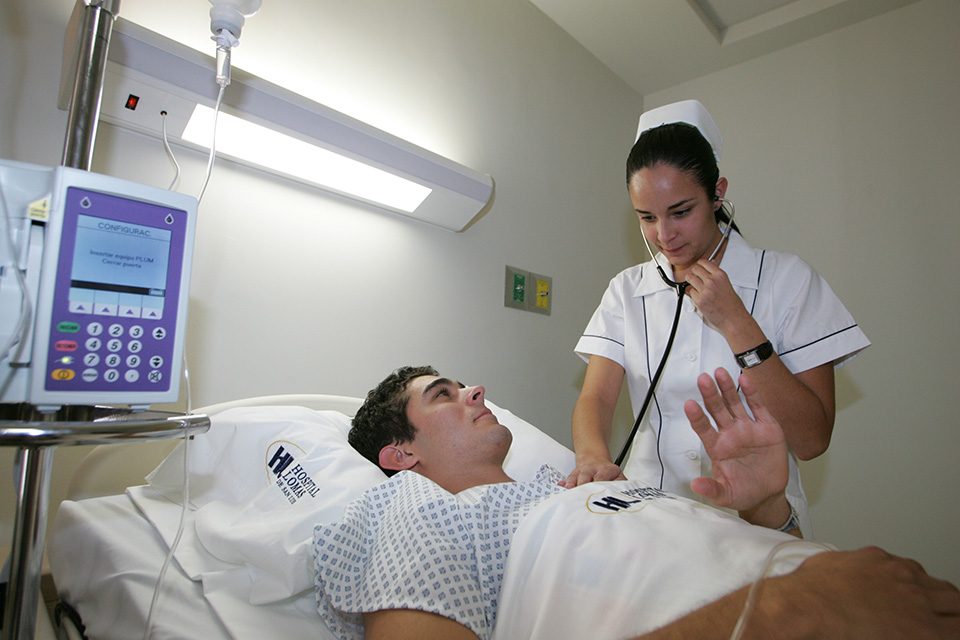 ENDOSCOPY UNIT
Area where video endoscopy studies of the digestive system and the respiratory system are carried out. It has cutting edge equipment, facilitating the diagnosis and treatment of digestive and respiratory diseases.
MATERNITY AND TOCO-SURGERY UNIT
The Maternity area of Lomas de San Luis Hospital is designed to offer excellence to our patients in the important moment of receiving their little ones.
We have:
• 1 evaluation room.
• 2 independent labor rooms, with cardiotocography monitoring and recording equipment.
• 1 childbirth resolution room.
• 2 fully equipped operating rooms for the performance of toco-surgery procedures, complying with all the official Mexican standards.
• Recovery area with monitoring equipment and support for the care of our patients.
During labor, the patient can be accompanied by a family member to support her in this important moment.
INTEGRAL NEWBORN ACRE UNIT
Prepared to provide the most attention and security. This Unit includes:
• Physiological nursery.
• Intensive and Intermediate Neonatal Care Unit.
• Isolation Area.
• Breastfeeding area. Place where the mother in the company of her partner provide breastfeeding to her newborn.
Equiped with:
• Advanced incubator for intensive care, provides a controlled and protected micro environment, thus promoting the natural and peaceful development of the newborn.
• Radiant heat cradle, helps to facilitate an area for the care and development of the baby by reducing unnecessary stimulation of the patient. Provides a powerful and uninterrupted thermal performance that guarantees a comfortable environment for the baby.
• Dual system, combines the functions of an incubator and a radiant heat cradle that allows clinical procedures without the need to transfer the baby from one bed to another.
• Phototherapy system, designed to promote care for the development of the baby by administering high-intensity phototherapy, which, combined with its structure, allows treatment of neonatal hyperbilirubin disorders 28% faster.
• Bilisoft LED phototherapy system, combines the most advanced LED technology with optical fiber to provide intensive and effective phototherapy during the treatment of neonatal hyperbilirubin, thus supporting the development care of the newborn.
• Pulse Oximeter, provides the most accurate and reliable readings of oxygen saturation (SpO2), pulse and perfusion during the movement and low perfusion of the baby.
• Air-oxygen mixer, provides a continuous and accurate mix of air and medical grade oxygen between 21% -100%. That allows the regulation of oxygen therapy that is essential to effectively prevent retinopathy of premature babies.
• Vital signs monitor, combines technological innovation with precision, convenience and reliability in patient monitoring. Since it is designed to deliver to doctors the essential information required for the proper care of our newborns.